Dec. News: Stay Fit From a Distance With Virtual Y
We've missed being with community with all of you over the past nine months, but we've also had fun coming up with engaging fitness content, both in person and online. Now we're stepping up our virtual game to keep you healthy at home!
Today we're excited to announce the release of our new Virtual Y platform. As a Y member, you now have access to dozens of on-demand and live group exercise classes, all in one spot.
Later this month, the content will become exclusive to Y members. You'll need your account login to access it. Please check your account login credentials here to prepare for this change.
In the meantime, stay connected to your email, our website, and social media pages for instructions of how to log on to this new platform. Thank you again for staying with us. We look forward to seeing you online!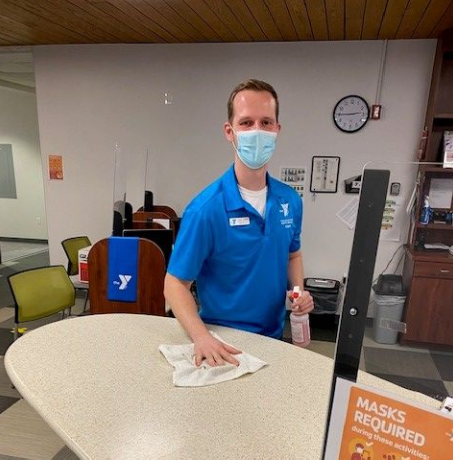 We care about your health and safety
The YMCA of Western North Carolina is committed to the health and safety of our members, staff and community. Last week, stricter state mask requirements went into effect to slow the spread of COVID-19.
Masks are required inside YMCA facilities for people age 5 and up, including while exercising and in locker rooms. Masks are not required in the pool or shower, or if a medical exemption is on file.
We're also working hard to keep your Y clean and safe. Click here to learn more about our efforts and what you should do to prepare for your visit.
Remember, your membership includes access to all eight local YMCAs. Hours vary by location, so please check our website or mobile app for updates and schedules.
Give to help your community today 
Today is GivingTuesday! This global generosity movement unleashes the power of people and organizations to transform their communities and the world.
It's a simple idea: whether it's making someone smile, helping a neighbor or stranger out, showing up for an issue or people we care about, or giving some of what we have to those who need our help, every act of generosity counts and everyone has something to give.
The Y offers several ways to give back, including through time or financial support. Click here to learn about our volunteer opportunities and click here to give or pledge financial support to benefit our community.
Y food programs provide healthy snacks for kids
Through the Child and Adult Care Food Program, the Y is able to ensure that all children in our 35 childcare program sites across Buncombe, McDowell, and Henderson counties have a nutritious afterschool snack.
Read on to learn what that means to kids like 9-year-old Olivia (above):
What do you like best about the meals?
I love that I do not have to worry if they are healthy, because the YMCA does that for me, and teaches me to know the difference.
How do you feel when you get the meals?
I am excited every day! I know that I get to snack and spend time with my friends, and it is one of the best parts of my day!
What's your favorite part of snack?
I love the cheese and WOW butter! They taste so good!
Thank you for bringing a friend
What's the best way to keep motivated? The buddy system! Friends can help hold you accountable to your fitness and wellness goals. If you refer a friend to the Y and they join, you both get $10 off your monthly membership for the next three months!
It's easy to refer a friend. When they join online, or in any of our centers, they'll enter promo code FRIEND at checkout. It's that simple! Once they join, we'll ask your friend who referred them so both of you receive your savings.
Members can have one active referral at a time, up to four per year, for a maximum annual savings of $120.
Other terms and conditions apply. Click here for complete program details.
21 days to a healthier mind and body
Research tell us it takes 21 days to build a healthy habit and 90 days to make it a permanent lifestyle change. Set aside daily time for yourself to still your mind, relax your body, and breathe with intention. The Y can help with our upcoming December Mind Body Challenge! Practice yoga, meditate, or take a mind body class every day for 21 days.
The challenge begins on Dec. 6 and runs for 21 days. Sign up via the Challenges tile on our mobile app. Haven't downloaded the app? Search YMCA of WNC in your app store or click here from a mobile device!
Prevent or take control of your diabetes
Diabetes is the seventh leading cause of death in the United States, and medical expenses for people with diabetes are 2.3 times greater than those without. While there is no cure for diabetes, it is preventable and manageable. 
The Y offers three evidence-based programs to help people prevent and manage type 2 diabetes including our Diabetes Prevention Program, Minority Diabetes Prevention Program, and Taking Control of Type 2.
Registration is now open for both virtual and hybrid (in-person and virtual) sessions. Click here to learn more and to register.
CDC recognizes local diabetes prevention program
Buncombe County Health and Human Services has earned full recognition from the Centers for Disease Control and Prevention for its Minority Diabetes Prevention Program, which is presented by the YMCA of Western North Carolina with support from the Asheville Buncombe Institute for Parity Achievement (ABIPA).
This national designation is a result of key milestones reached during BCHHS's three-year administration of the North Carolina Minority Diabetes Prevention Program (NCMDPP) in North Carolina Region 2, covering Avery, Buncombe, Burke, Henderson, Madison, McDowell, Mitchell, Polk, Rutherford, and Yancey counties.
To become a National Diabetes Prevention Program, an organization must prove it can meet CDC standards and effectively deliver a diabetes prevention lifestyle change program. Click here to learn more about the program and new designation.
Change lives by working in YMCA childcare
Throughout the pandemic, our childcare staff have worked day in and day out to make sure young people have a safe, nurturing place to learn, grow, and thrive. We are now hiring additional childcare staff to help meet the needs of the kids and parents/guardians in our community. Click here to view our open positions. Do you know someone who currently works in our childcare program? Make sure to ask them about our new hiring referral program!
Help slow the spread of COVID-19
Protect yourself, your loved ones, and your community simply by using your phone. It's easy. All you have to do is download the SlowCOVIDNC mobile app and you can help slow the spread of COVID-19.
Search for and download the app in the Google Play or Apple App store, enable your Bluetooth and Exposure Notification settings, and be notified if you have been in close contact with someone who has shared a positive COVID-19 test result in the app.