Aug. News: You Can Make a Difference at the Y
Working with the Y changes lives – including your own. We offer competitive pay, flexible schedules, and leadership development. Here are a few of the positions we're hiring for now:
Afterschool Youth Mentors: Kids learn, play, make friends, and let their imaginations roam free in Y childcare programs with guidance from caring staff. Positions available for ages 16 and up. 
Lifeguards and Swim Instructors: Lifeguarding is fun and has flexible hours. Ready to get in the swim of things? Now hiring  ages 15 and up.
These positions offer a variety of hiring bonuses for select positions. See all job openings at the Y here.
Thank you for bringing a friend
What's the best way to keep motivated? The buddy system!
Friends (and family) can help hold you accountable to your fitness and wellness goals. If you refer a friend (or family member) to the Y and they join, you both get $10 off your monthly membership for the next three months!
It's easy to refer a friend. When they join online, or in any of our centers, they'll enter promo code FRIEND at checkout. It's that simple!
Once they join, we'll ask your friend who referred them so both of you receive your savings. You can have one active referral at a time, up to four per year, for a maximum annual savings of $120.
We care about keeping you safe
Nothing is more important than the health and safety of our team, our members, and the community. We continue to prioritize your safety with these precautions:
Enhanced sanitization of equipment, surfaces and areas combined with an increased frequency of cleaning
Upgraded air filtration systems
Additional stations for hand sanitizer and disinfecting wipes
Focus on "no touch" or "low touch" interactions
Protective barriers in place to reduce contact between staff and members
Health screenings and temperature checks (childcare only)
Mandatory COVID-19 education, safety training, and protocols for our entire staff team
Reservation systems for group exercise classes and racquetball
Capacity dashboards to show the number of people checked in – go to the locations page and choose your center for real-time data.
Say hi to the Virtual Y
In all sorts of weather and wherever you go, Virtual Y is here to keep your fitness routine on track! As a Y member, you have exclusive access to our Virtual Y platform. We add new group exercise classes every day from your favorite local instructors as well as from other Ys across the country. We also have a variety of kids and family content at your finger tips. Visit ymcawnc.org/virtual-y to sign in day!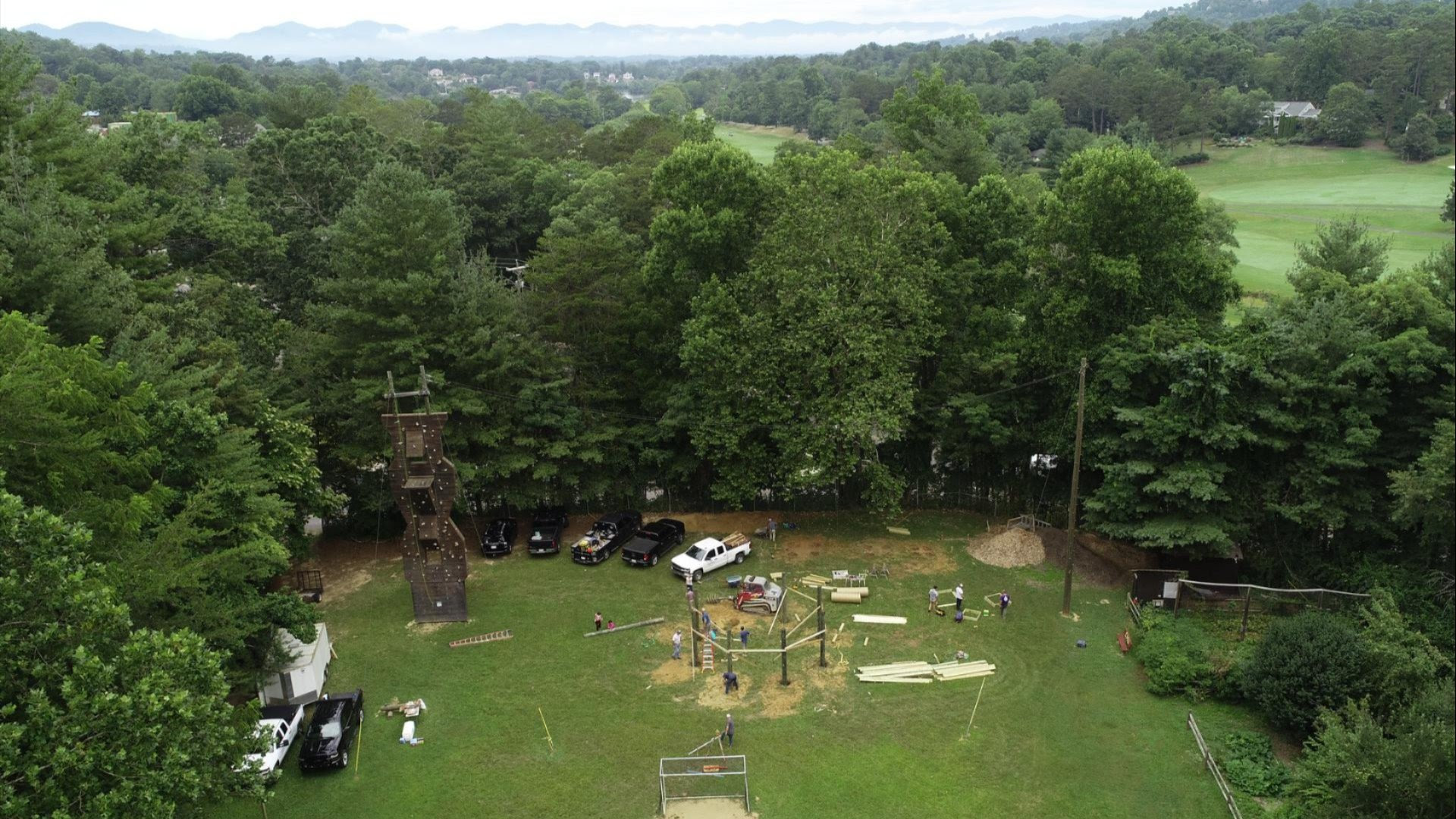 Donated low ropes course benefits Y kids
Vannoy Construction recently donated their time, materials, and expertise to build a low ropes course for kids at the YMCA Youth Services Center at Beaverdam.
"This project was particularly special to us coming out of COVID-19," said Brian Walker, vice president of Vannoy Construction and member of the YMCA of WNC Board of Directors. "Kids really need opportunities more than ever to get back to socializing and experiencing great role models. The YMCA is excellent at providing this service, as well as providing the needed scholarships for kids that would not otherwise be able to experience it."
Several generous vendors assisted Vannoy with the project, including Kloesel Engineering, United Rentals, Network Distributors, Southern Concrete Materials, and DSG Concrete.
"Low ropes courses help kids build self-confidence and skills such as team cooperation, positive risk-taking, communication, and goal setting," said Melissa Wiedeman, vice president of K-12 Childcare. "Vannoy's generosity will benefit children for years to come."
Enjoy the great outdoors with the Y
Here in western North Carolina, we are blessed with beautiful weather for most of the year. And as we continue to offer outdoor classes, we wanted to make these spaces as comfortable, safe, and fun as possible. Be on the lookout for more outdoor offerings at each of our centers, complete with brand-new turf, pavilions, and more. The new "Studio O" at the Hendersonville Family Y is pictured above.
Keep going for the gold
Remember to sign up for the Go for Gold Challenge! The more you check in, the closer you bring your home Y team to victory. The winning Y will host a gold medal ceremony and the top three participants at each center will win a prize. Sign up today at your home center front desk. Hurry in – the challenge ends Aug. 7.
Walk it out with the Y
Clubs are back! Join our Walking Club at the Woodfin and Corpening Memorial YMCAs to connect with people who share your interests. A variety of clubs are starting back up. Stop by the front desk at your local Y and ask what clubs they have available. 
Find community after bereavement
Grief takes a toll on your spirit, mind, and body. The Woodfin YMCA is starting a free bereavement support group to help people ages 21 and up cope with the loss of an adult loved one. Peer-led and coordinated by a trained and certified facilitator, Will Weintraub, the group will encourage conversation in a safe, confidential environment. You do not need to be a Y member to participate. The group meets on the first and third Tuesday of every month. To sign up, email Eric Barsotti or call 828-575-2926.
The Y feeds neighbors in need
Each week, the Y is in the community distributing healthy produce, simple recipes, and valuable nutrition information that's easy to understand. This service is FREE and open to the public, no questions asked. Find our mobile market schedules here.