Aspiring to a better Asheville
First Baptist Church of Asheville (FBCA) and the YMCA of Western North Carolina (YMCA) are uniting on a bold and unprecedented project to develop their neighboring properties as a walkable urban village that helps meet community needs for affordable workforce housing, early childhood development and education, health and well-being, and more.
Between them, the church and the YMCA own approximately 10 acres in downtown Asheville at the eastern gateway of the central business district. With the working name "Project Aspire," these mission-based organizations hope to transform their shared landscape for the next 100 years of community service.
The design will prioritize sustainable building systems, public green spaces, and pedestrian connectivity, ensuring that the development is environmentally responsible and accessible to all. It will feature:
affordable and market-rate housing options 
new state-of-the art YMCA
accessible medical care
women and minority-owned business incubation space
green spaces and outdoor gathering areas
hospitality with meeting space
office buildings
community-oriented retail shops
restaurants
ample structured parking
These plans are consistent with community goals identified in the Living Asheville Plan and are in line with the charitable missions of FBCA and the YMCA. Both organizations are nonprofits with common values, including community engagement and seeking to help Asheville flourish. Both are concerned about issues of justice, equity, and healthy living. As neighbors for more than five decades, they believe working together will help them serve for generations to come.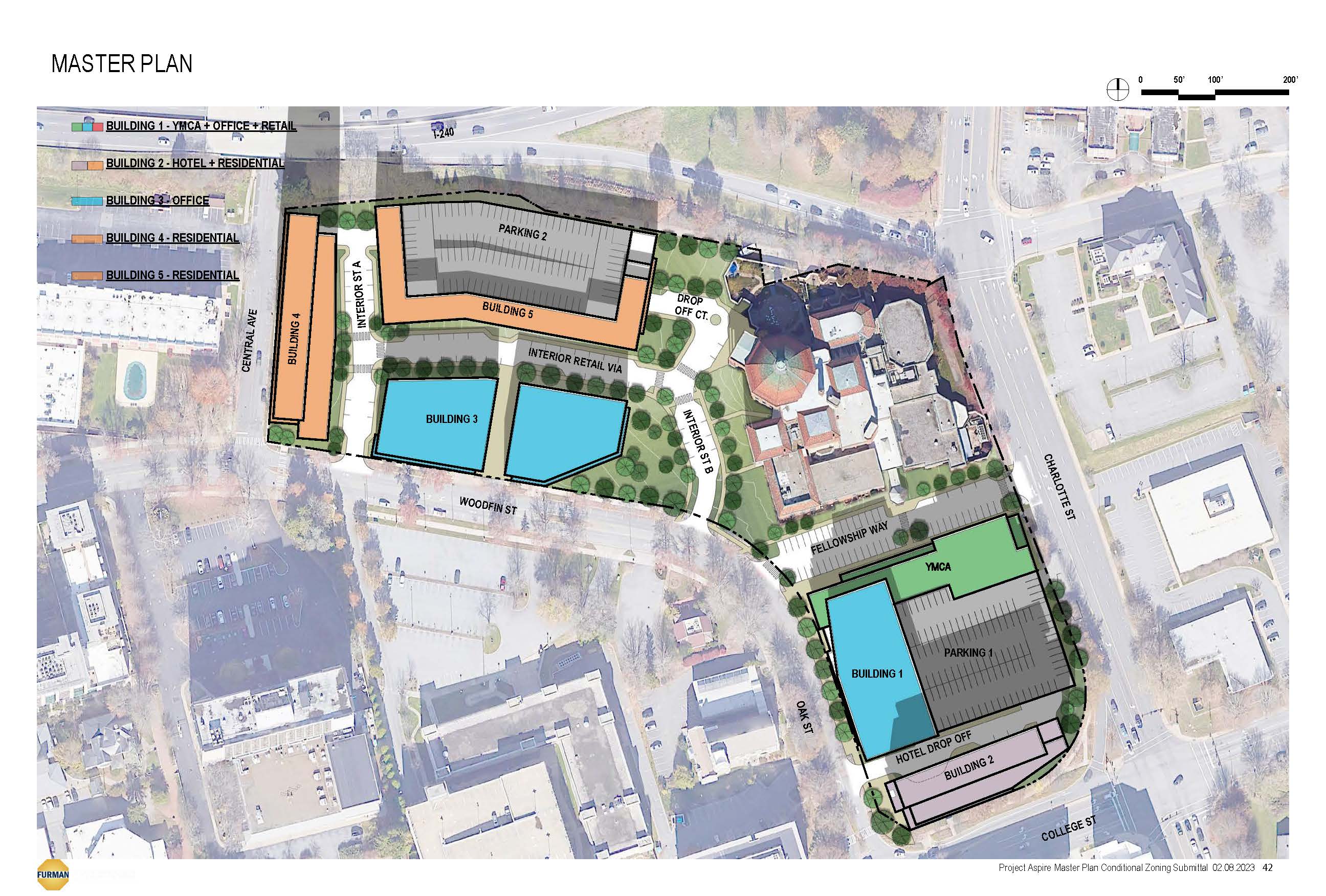 Project Aspire FAQ
The YMCA of Western North Carolina and First Baptist Church of Asheville have partnered to create Project Aspire, a walkable urban village dedicated to the greater good on their shared properties at the city's eastern gateway.
affordable workforce housing
early childhood development and education
new state-of-the art YMCA
accessible medical care
women and minority-owned business incubation space
healthy food distribution
green space
outdoor gathering areas
hospitality with meeting space
office buildings
retail shops
restaurants
ample structured parking
The YMCA has been researching options for improving the Asheville Y since 2008. When FBCA began working on its current Campus Mission Plan, it quickly became apparent that the neighbors' goals were aligned. The church and the Y entered into a cooperative partnership five years ago, and have been working on a mutual development plan for their adjacent downtown properties ever since.
The 10-acre site is bordered by I-240, Charlotte Street, College Street, Oak Street, Woodfin Street, and Central Avenue. It sits at the gateway into downtown Asheville from Tunnel Road.
The goal is to create a welcoming, walkable gathering place for locals and visitors alike. The developers are sensitive to the unique architectural heritage of downtown Asheville, and plan a complementary design that incorporates outdoor spaces, green building, and modern amenities. Designs are preliminary and subject to change, and citizens of Asheville will continue to have input.
Project Aspire will contain 400-650 residential units. Of that number, we are committed to making 20 percent (80-130 units) affordable. Of those units, 50 percent will accept vouchers. That means that at a minimum, 40-65 of the units will be deeply affordable units. If a Low-Income Housing Tax Credit, aka "LIHTC," project goes through in Phase 2 as planned, the deeply affordable unit contribution will be much higher.
The site will be developed in two phases over the next 10 years. The soonest construction would start is the end of 2024 to the beginning of 2025. Phase 1 would involve the development of the area between the church's side entrance and College Street, including building affordable housing units, the new YMCA, hotel, parking deck, green space/park, office space, and retail.
Phase 2, projected to begin in at completion of Phase 1, will develop the property between the front doors of the church and the current Asheville YMCA. That area will become a mixture of affordable, workforce, and market rate housing, offices, retail, parking, and green space.
In addition to private investment, community fundraising, philanthropy, public/private partnerships, and economic development incentives, grants and tax credits are essential to the success of this innovative development plan. Because both the church and the Y are tax-exempt nonprofit organizations, developing this property creates more opportunities for community investment that will increase the local tax base.
The development plans address many community issues and have been conceived in partnership with leaders from the City of Asheville, Buncombe County, and non-governmental organizations to align with the Living Asheville plan. The church and the Y have been discussing their plans with a variety of neighborhood and civic groups, potential partners, and other nonprofits to gain valuable insight and to ensure the plan meets community needs. These discussions will continue as the project moves forward.
First Baptist Church of Asheville's historic structure will not move or be altered in any way.
The new Y will be built between Charlotte Street, Oak Street, and Woodfin Street.
The existing Asheville Y on Woodfin Street will remain open during construction.
The new Y will be similar in size to the current Y, approximately 65,000 to 70,000 square feet, but with a much more efficient footprint. There will be more room for programming than the current facility has. At minimum, there will be two pools, a gym, ample group exercise studio space, and rooftop workout areas, in addition to spaces for youth development and community gatherings. Other details are in the planning stages.
The proposed hotel site is on property owned by the church at One Oak Plaza. It is located in District A of the City of Asheville's 2021 Hotel Development Study, an area zoned for hotels, and will conform to ordinance standards.
First Baptist Church of Asheville has partnered with The Furman Co. to develop the site.
A hotel partner will help fund several aspects of Project Aspire's mission by allowing the church to get income up front. This means:
The church will be able to dedicate more of Phase 1 for affordable housing units.
The church will be able to forgive the YMCA's land lease for 10 years, which will then allow the YMCA to stay open while the new building is under construction.
During Phase 2 of Project Aspire, the Y will facilitate transactions to fund even more affordable housing.
It's too soon to say to what degree traffic will be affected, although it will increase. A traffic study will be completed per city requirements and all city and NCDOT requirements and recommendations will be followed. It is important to note that the development plan contemplates structured parking, an important objective identified by Asheville citizens.
The lead partner is The Furman Co., a real estate development firm based in Greenville, S.C. Furman specializes in urban adaptive reuse projects that drive the revitalization of communities and neighborhoods. The church and the YMCA engaged Perkins & Will, an 80-year-old global architectural firm, for master planning. The YMCA has also engaged Gro (Gro-Dev) to help plan its new facility.